Smith Opera House is a fabulous art decco theater in Geneva New York.  Recently I had the pleasure of painting a "womens sitting room" with Andrea Staffeld, as part of the renovations of the lower level.  The piece is characterized by shifts in perspective  and scale, creating an atmosphere of sureal fantasy, an ochre, sun baked vision of the world.
Andrea and I have been friends for years.  We have worked together teaching, although we have never made a painting together.  You could say that our approaches to imagery are opposite. 
This was both the stregnth and challenge of this collaboration.  Our individual approaches created a natural layering and an active conversation of imagery.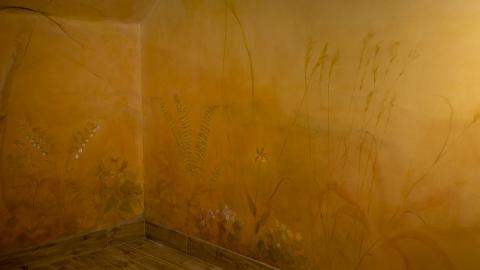 Susie Monagan is the Director of the Smith Opera House.  When she first talked about painting our sitting room she recalled a room at Radio City Music Hall, a playful landscape, with place to sit down, a warm respite during an elegant night of theater.  We have paid homage to many aspects of that room in New York City, spinning our own reverie to fit at the Smith.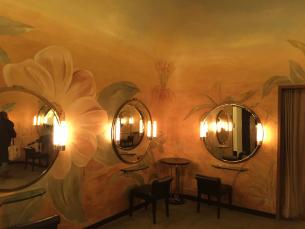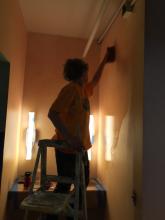 We painted starting with thin atmospheric, veils of color, one washing to another. Ochre, by its nature is always changing.  The process of lazur is like a dance with gravity and water.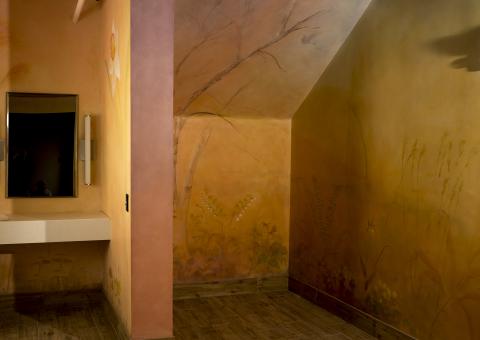 The paint started extremely thin and the brushes very large, two at a time, one to put the color on, and the other to brush it away.   We circled the room possibly 20 times.  With each layer the brushes became smaller and the paint became thicker, all the while grinding pigments, adjusting the color with Andalusian Ochre, Ochre Havanne and Ochre Soforouge.  We set the stage of light, from bright to dim, morning to evening, working towards the surface where some things are seen and others are  imagined. 
You will step into this room to the unexpected pleasure of being inside a painting. This is a sitting room.  When the furniture arrives then we can all sit down.