Some one once asked  "What is your skill set?".  My career has multiple categories  that rotate and converge,  about people, materials, situations, studio practice, children's development and life in art.  Now that Abovo Studio is closed I am still busy doing what I do.  
Here is a partial list of recent consulting projects.
For the Downtown Ithaca Children's Center, consulting   Question:  In what way can art become a modality for teaching.  Their objective was to have art become more central to the culture and function of the school? Consulting involved teacher training, curriculum development and classroom teaching.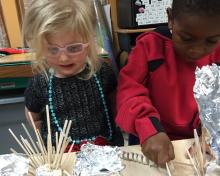 For A+ at BJM : Program design with Marie Vittucci is an accomplished Yoga teacher and the director of the A+ Afterschool program at BJM elementary school.  We designed a program that combined yoga nd figure drawing for girls  to  build physical assurance and self esteem.  
Drawing Like Crazy!  This is a program that arrives in a suitcase and has happened in many locations over the past 4 years.  Any room with floor space becomes a studio.  I teach an exhuberant brand of drawing, a serious weekly session of skills and practice for kids. Drawing is a language that can be mastered at a young age. 
Preschool Art   at the Library, an on-gojng monthly event at TCPL for littleones and their families. Every session is unique.
Tiny Town for Cayuga Nature Center   
Stick City for Cayuga Nature Center
Flight Club for Belle Sherman School 
with funding from Hope Foundation