In the summer,  after only several months of pandemic, I began.    Rather than my plan,  which was to make tall energetic, ones, steadfast companions of clay, as an antidote to the ennui and fearfulness,  I found myself making a persona instead. Slowly rattled out through these hands, through the dull long anxiety, "Heartbreak" materialized, bodiless and absurd, a mourning for those who had died and for all the plans interrupted.  Many more have died by now.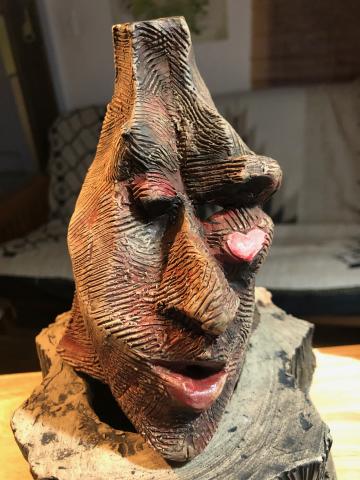 She and the others are chiminea, functional things, earning places in the everyday household, a place to burn sage or incense and remember.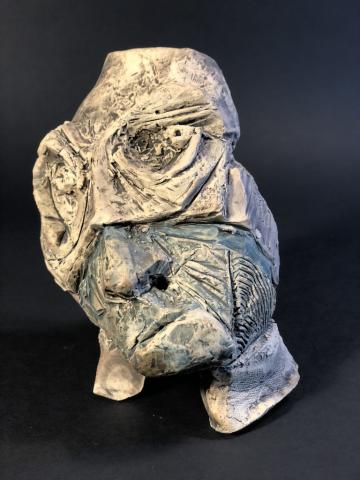 This smoky-head chiminea with the blue mask, called "Masquerade", is a dazed one.  Worried,  fearful  head, cast aside, staring.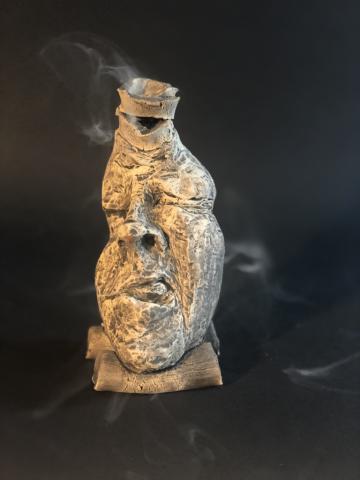 "Overhang"  is the one who may have ventured out on the ledge too far! Will it hold?  He winces and holds his breath, still smokin!
In the yard, in the Summer evenings of 2021, I did find find comfort in the scale, in the clay and in the juxtaposition of a utilitarian thing and my my own rumination on the self in the Covid.