Clay is malleable, able to follow our impulse, record an action or show the force of gravity.  We create structure, clay changing from liquid to solid and transforming  over time and  by fire.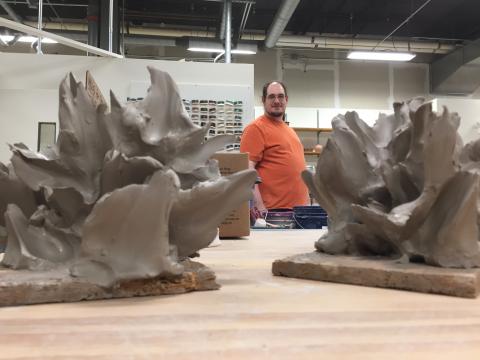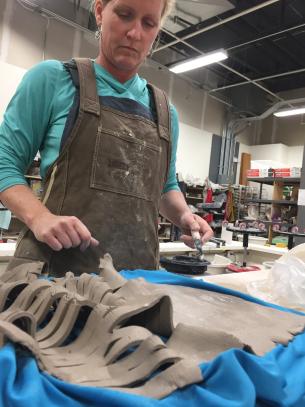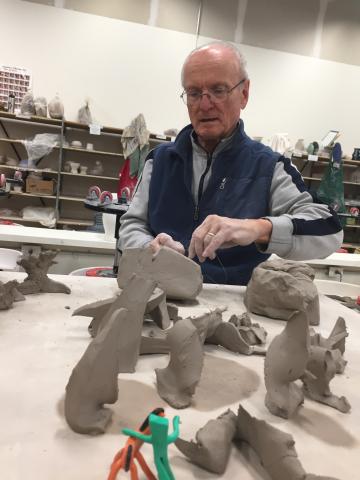 Studio practice is the  dance,  the give and take between aesthetic intent, action  materials and technique.  We set ourselves in motion with discussion and a wealth of ideas and experimentation  
Here are some interesting links.  You can follow the ideas about form and action
Beth Cavener, Follow the Black Rabbit.  
http://www.followtheblackrabbit.com/
Liz Lescaut Biomorphic Sculpture
http://www.lizlescault.com/home#.WLd17RLyvXE
Jennifer Harnetty
http://ceramicartsdaily.org/pottery-making-techniques/handbuilding-techn...
describes her process and her relationship to the object 
Rebecca Buck  clay armature inside a hollow shape  https://ospreystudios.org/2015/03/02/how-to-do-make-a-head-clay-armature...
Peter Voulkos on improvisation
https://franklloydgallery.wordpress.com/2009/07/09/peter-voulkos-on-impr...
Blog piece about Voulkos with good images of him in process
http://thewardenstoday.blogspot.com/2013/08/peter-voulkos.html
architectural slip cast ceramic
http://data-clay.org/projects/Slip%20Screen/index.html
Alexandra Engelfriet :  (diving in, the action of the body) ( waves and curves, repetitive forms)      
http://www.pulsceramics.com/exhibitions/alexandra-engelfriet-2007/
http://www.mansfieldceramics.com/projects/alexandra-engelfriet-netherlands/
https://www.alexandra-engelfriet.nl/projects.php
http://thebesttimeoftheday.blogspot.fr/2011/05/alexandra-engelfriet.html
Antonia Salmon  http://www.sculptgallery.com/gallery-artists/2144/antonia-salmon
You see her thinking, iterations of the same idea.  She is rather unknown as a sculptor, makes her living as a functional potter
Fujikasa Satoko  Her work in the portland museum was referred to as "air in clay".  How does she do it?  There are almost no studio images
https://cfileonline.org/exhibition-fujikasa-satoko-form-in-motion-at-con...
http://japanlivingarts.com/fujikasa-satoko-ceramic-artist/
Satoru Hoshino His piece is at the Johnson.  In his work, the process is no mystery.  The finished piece is about the process, something massive built from a small action.   We can all identify with his pinching.  We see his fingers.  
http://outsiderjapan.pbworks.com/w/page/29464125/Hoshino%20Satoru%3A%20C...
https://www.pinterest.com/pin/302374562463086375/
Torborn Kvasbo, a larger interval of forms.  http://www.mansfieldceramics.com/projects/torbjorn-kvasbo-norway/
http://kvasbo.com/studio/ There are many good image of process and the studio.  The front page of the website is not well formatted.  Inside its fine.  
Annie Peaker, a few more rabbits http://www.anniepeaker.co.uk/animals/page4.htm