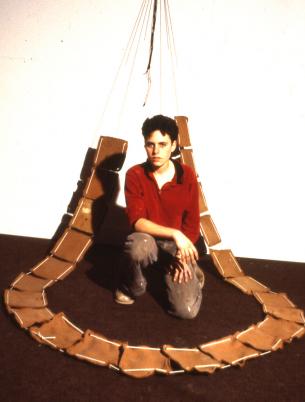 In the beginning I was born in New York City. I grew up looking at everything. The quirky visual anomalies that I would look at back then, still hold my interest, patterns, woven shapes of visual space, objects balanced and water.
After studying psychology, fine arts and art therapy in college, I followed my fascination with people and their process in art into clinical practice, doing art and therapy with autistic people, families, AIDS patients and cancer patients.  At what point is an interaction therapy and when is it teaching? 
This became an important question as I found myself moving away from the restrictions of the clinical dialogue, towards situations labeled " teaching". The people were the same. The roles implied by an interaction called teaching, however seemed less limiting and more conducive to real health. I did many studio workshops at the Museum of Modern Art (MoMA) in New York , in the New York City public schools for David Marquis Studios, in parks and at hospitals. I became the traveling art show with my studio in a big suitcase.
Later, after moving to Ithaca, I taught sculpture at the State University of New York College at Cortland and then at Ithaca College. This was a return, after many years in the small spaces of NYC to my own practice of making sculpture. I had missed the materials, the robust physical process and the meaning of objects. The 2004 tsunami happened and then Katrina happened. My work in sculpture continued, exploring the properties of concrete and cast forms that contain water. This series of work is called Industry.
My attention in teaching has now turned to younger students. Children develop self-awareness, confidence, skills of observation and critical thinking through studio training. This essential element is often missing in public school education.   I decided to create a studio school, where I could put my ideas and long experience into practice. 
Abovoagogo Art Studio School opened in April of 2010  a  small urban art  space on Seneca street in Ithaca.   It was, a laboratory for teaching and visual ideas, a place for young artists.  The studio closed at the end of the summer season in 2015.  Now, working freelance I am involved in many of the same pursuits, working with students, projects and residencies, with the world as my classroom and studio.  
Registered Art Therapist # 88-1011
B.A. Psychology, Ithaca College, Ithaca New York. 1978
M.F.A. Sculpture, S.U.N.Y. at Buffalo, New York. 1983
M.S. Clinical Art Therapy, S.U.C. at Buffalo, New York. 1986